Council shares emerging ideas for former Mecca site
Posted on
13 February 2019
Ashford Borough Council is sharing the emerging ideas for the former Mecca Bingo site at a small exhibition in Ashford Gateway from Tuesday 12 February until Friday 1 March.
High streets up and down the country are facing challenging times due to online shopping and the changing way town centre are being used. This means they need to reinvent themselves and what they offer to residents and visitors.
The Council is looking to regenerate the town centre so that:
it is an attractive and safe place to live and visit where people feel welcome and have a sense of community and belonging
offers unique and fun experiences for everyone to enjoy in the daytime, evening and at night
it is a thriving place that is accessible, easy to navigate and well managed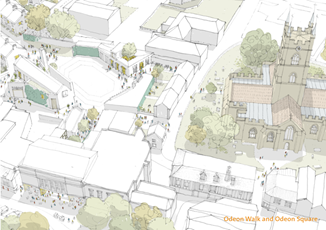 Cllr Gerry Clarkson, Leader of Ashford Borough Council, said: "The former Mecca/Odeon site and the adjacent Vicarage Lane car park presents a unique opportunity to drive forward our objectives for the town centre, which could bring more people into the high street and provide better facilities for residents.
"The Council is aware of the interest many local people have expressed in having a theatre, however the potential cost of converting this building added to the fact that former cinemas do not tend to make good theatres, has led us to look at other potential uses for this space.
"The Council believes the proposed development could help to rejuvenate the town centre, enhance our cultural offer, create employment opportunities and attract inward investment for the benefit of residents."
The emerging proposals for the site by architects Ash Sakula involves:
the part-demolition of the main bingo hall to reveal the view to St Mary's Church
retention of the lower high street frontage with the creation of a small new indoor performance space upstairs
the creation of a pleasant pedestrian route through the site, a new outdoor performance area/square
some residential development and the creation of studio workspaces.
Any loss of parking spaces at Vicarage Lane car park would be offset by the proposals to build a multi-storey car park behind the bowling alley on Station Road.
For more information and to provide your feedback, visit www.ashford.gov.uk/mecca