Workforce
Ashford's population has grown 22.6% over the last 15 years.
This fantastic growth has also supported an increase in highly-skilled professionals, with 8.4% of the Ashford population being managers, directors and senior officials. Skilled trades occupations represent 18% of the population and professional occupations 17.5%, including people working in science, engineering, tech, business, media as well as health professionals and teachers.
In 2016, we recorded 55,000 employees in total, with the largest sectors in terms of employment being 'Wholesale and Retail' (21%), 'Human Health and Social Work Activities' (16%), 'Manufacturing' (9%) and 'Administrative and Support Services (9%). The number of employees is still rising, with more companies relocating to Ashford and enjoying our USPs.
Ashford is also home to the Ashford College, which now has over 1,400 students enrolled at its Elwick Place campus. This means employers have access to highly-skilled graduates, interns and apprentices right on their doorstep, including highly-qualified engineering students. Ashford College also has strong links with the local business community, so get in touch with the course leaders to see how you can benefit from their proximity.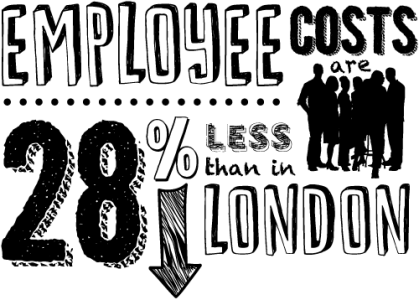 Ashford is an affordable business destination, with the median salary being £7,258 lower than in London. This 21.6% difference in median salary for full-time workers, combined with cheaper overall employee costs, make hiring highly-skilled employees to support company growth is easier than ever in Ashford.