Housing
A number of new, high-quality residential developments have sprung up in and around Ashford.
Look to the town centre for a choice of developments that offer an appealing alternative to crowded and expensive London, within a buzzing environment. Victoria Way East and Riverside Park will provide a wide range of new apartments and homes in the town centre.
Find your dream family home in one of our developments, at a fraction of the cost you'd pay in London, with an exceptional quality of life. Fancy seeing what's currently available?
Finberry, Ashford
Located next to the East Stour river, Finberry gathers a collection of one and two-bedroom apartments, as well as two, three and four-bedroom family homes. The properties are contemporary yet retain the traditional charm of a Kentish cottage, inspired by Kent's architectural heritage.
Parks, meadows and riversides provide a picturesque backdrop and tranquil setting, with access to essential amenities right on your doorstep, such as community and sports centres, play areas and schools.
You will also have easy access to Ashford town centre, the route to the M20 motorway and the International train station to go to London or Europe.
Chilmington Green, Ashford
The Chilmington Green development will provide a unique environment to live and work in. High quality homes set among setting green spaces will help build a flourishing new community over the decade.
This development will bring 5,750 new homes to Ashford by 2025, as well as shops, community centres and social and recreational facilities. Chilmington will have its own high street, as well as primary and secondary schools.
Thanks to footpaths, cycleways and its own dedicated bus service, residents will be able to reach Ashford town centre quickly and to the International train station and its high-speed train services.
Conningbrook Lakes, Ashford
From its setting in Conningbrook Country Park nature reserve, the Conningbrook Lakes development offers the best of city and countryside life.
Commuting to London is as easy thanks to its proximity to Ashford International Train Station and its fast service to London St Pancras. So it's possible to work in the city, and be back home to enjoy the rural lifestyle by the end of the day, for a perfect life/work balance.
Houses are designed to put a modern twist on the traditional Kentish style and offer breath-taking views over the lakes. Conningbrook Lakes is perfect for those looking for a place to unwind, be inspired or bring up a family.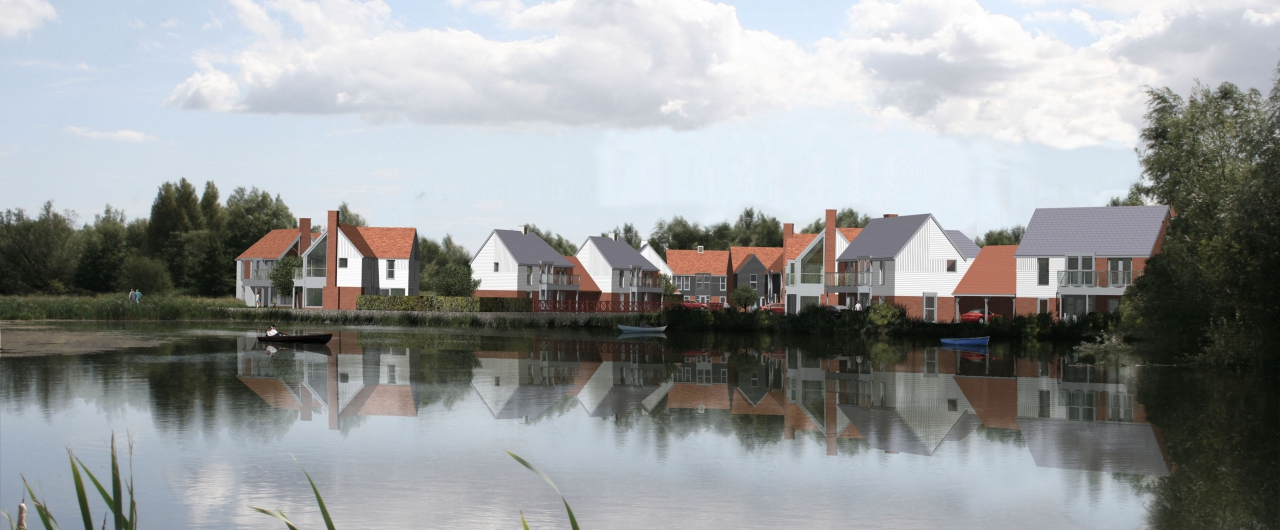 Victoria Way & Riverside Park, Ashford Town Centre
These two major developments are bringing spacious new apartments to Ashford town centre.
The Victoria Way East development compiles 216 new built-to-rent apartments, surrounded by a brand-new hotel, the much-anticipated Curious Brewery and an Aldi superstore.
Riverside Park offers 660 town centre apartments, featuring one, two and three-bedroom flats as well 25 houses. It will also include a new public realm and a café to create a strong community feel.
Both developments will appeal to those wanting access to the town centre for work, shopping and eating out, and has the added advantage of its proximity to the train station and routes to London and Europe.
Conningbrook Park
Conningbrook Park is a residential scheme that will include up to 725 two, three and four bedroom houses when completed. The first phase, granted planning permission in May 2020, will include 278 units, as well as 85 affordable plots, a local centre and a bowling green. This will help create a new, vibrant community benefitting from plenty of green space.
The Triangle
Located on Victoria Road, The Triangle has stunning views of Victoria Park and the Great Stour River, comprising of 143 apartments arranged over three blocks, forming the three sides of 'The Triangle'.
Within the upcoming development, a collection of one, two, and three bedroom apartments will be available, all with delightfully modern interiors. In addition, The Triangle offers communal rooftops, landscaped courtyards, underground parking, bicycle storage, and plug-in electric vehicle charging stations. This development is scheduled for completion in Q1 2023.
Discover more about the project here: https://www.kingscrescenthomes.com/post/the-triangle-ashford