Ashford Arts Trail explored
Posted on
6 September 2018
Large Snowdog sculptures have been spotted playing hide and seek around Ashford town centre, ahead of the world-class public art trail landing on the 12th September.
The awe-inspiring arts trail influenced by the animation film, The Snowman and The Snowdog, will showcase 35 giant Snowdog sculptures designed by local and regional artists, alongside 19 small Snowpups created by local schools.
A Wild in Art event, responsible for the spectacular Superlambanana's in Liverpool in 2008, and the London Olympic Park trail in 2012, is being delivered in partnership with Ashford Borough Council and Pilgrims Hospices, aiming to attract thousands of visitors to the heart of Ashford during the 10-week trail, before the Snowdogs are auctioned to raise vital funds for the charity.
In the build up to Christmas, the large-scale free event will exhibit the town's woof-tastic social and cultural life, create a feel-good factor in the community, and run a full programme of free events, tours, and workshops for all the family.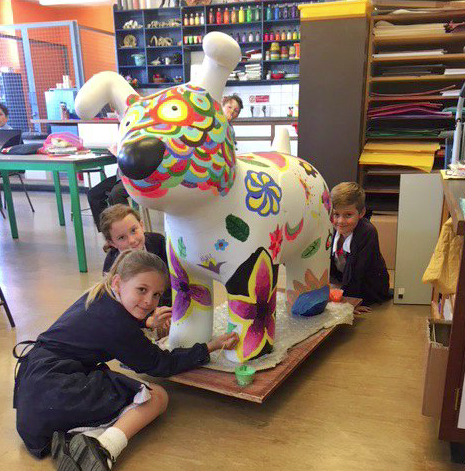 You can pick up a free trail guide from the Ashford Visitor Information Office, Made in Ashford and other outlets around the town centre, to lead you on your walkies. Whilst bounding around town, you can also purchase exclusive memorabilia including a 'Paint Your Own Snowdog', to collect as a paw-some keepsake from the event.
An interactive 'Snowdogs Discover Ashford' App will also be available to download soon for free from the App Store or Google Play, where users can play fetch the Snowdog and unlock sponsor rewards as they go.
Keep an eye out for Snowdogs barking up a storm on the streets of Ashford in the coming weeks!
Chris Dixon, Arts and Cultural Industries Manager, Ashford Industries Manager, said: "This event has been a year in the planning and has already captured the imagination of local business, artists and school children. Now that the secret is out, we hope that everyone will get involved in this free trail and be a part of this spectacular experience around Ashford."
"This event has already captured the imagination of local business, artists and school children. Now the secret is out, we hope everyone will get involved."

Chris Dixon, Arts and Cultural Industries Manager at Ashford Borough Council