Chilmington Green
What is Chilmington Green?
Chilmington Green is part of the new South of Ashford Garden Community in Ashford, Kent. The development will create a thriving community in the heart of Kent and include a total 5,750 high-quality homes, set to be built over the next 20 years. Properties will adhere to the latest energy efficiency standards to create a sustainable living environment.
The development will also include its own high street, with a range of shops as well as community infrastructure, commercial space and plenty of open space to enjoy the beautiful Kentish countryside.
The project will support 1,000 new jobs in the borough over the next 20 years.
Amenities
As a new garden community, Chilmington Green will include £125m worth of new facilities:
Four primary schools, with the first one already open to students off site and set to open at Chilmington Green in 2021.

One secondary school, which will serve the Chilmington and wider Ashford community.

A dedicated high street, with shops, restaurants and a new supermarket.

Healthcare facilities.

Sports and leisure infrastructure.

A 300-acre country park with sports pitches and event facilities.
These will aim to create a safe and friendly environment for families and people of all ages.
Chilmington Green – Hodson Developments
Phase 1 - Chilmington Gate
Chilmington Gate is Hodson Developments' first phase at Chilmington Green. It will comprise of a collection of one-, two- and three-bedroom houses set in a landscaped environment.
All houses will mix traditional building techniques with sustainable, energy-efficient design to create homes fit for the 21st century.
For more information about Hodson Developments' first phase and to express interest, please visit their website.
Phase 2 - Chilmington Lakes
Hodson Developments' second phase at Chilmington Green, Chilmington Lakes will include a selection of three-, four- and five-bedroom houses. This next phase will also benefit from a stunning countryside location, whilst being only minutes away from the Ashford town centre and HS1 services to London.
<a href="https://www.hodsondevelopments.com/development/chilmington/chilmington-lakes/" target=_blank">Find out more about this phase on their website.
Chilmington Green – Jarvis Homes
Phase 1 - The Hamlet
Jarvis Homes' first phase at Chilmington Green, The Hamlet will include 99 low-density properties, ranging from two- to five-bedroom houses only 10 minutes from the Ashford town centre. The Hamlet will be located next to a stunning water feature and a new cricket pitch.
The first phase is set to be released by the end of 2020.
To find out more about this development and register interest, please visit Jarvis Homes' website.
Chilmington Green – Barratt Homes
Barratt Homes at Chilmington will include two-, three- and four-bedroom houses set in acres of green space. Following the development's focus on sustainability, all homes will be built to high energy-efficiency standards, offering modern homes perfect for young professionals and families.
To find out more about this development and register interest, please visit Barratt Homes' website.
Why Chilmington Green?
Location
Located only minutes away from Ashford, one of the most dynamic towns in the South East, Chilmington Green offers the perfect relocation option. Residents will be able to enjoy the peaceful and stunning Kentish countryside, whilst making the most of a vibrant town centre as well as quick links to London, Europe or the seaside!
With regular HS1 services to St Pancras, people commuting to the capital will be able to reach central London in 38 minutes. Paris and Brussels are also under two hours via Eurostar*, making weekend breaks to Europe a new staple.
And, let's not forget about the M20 corridor, with easy access to J9 and J10a, residents will be able to travel to ports, airports and neighbouring regions in no time.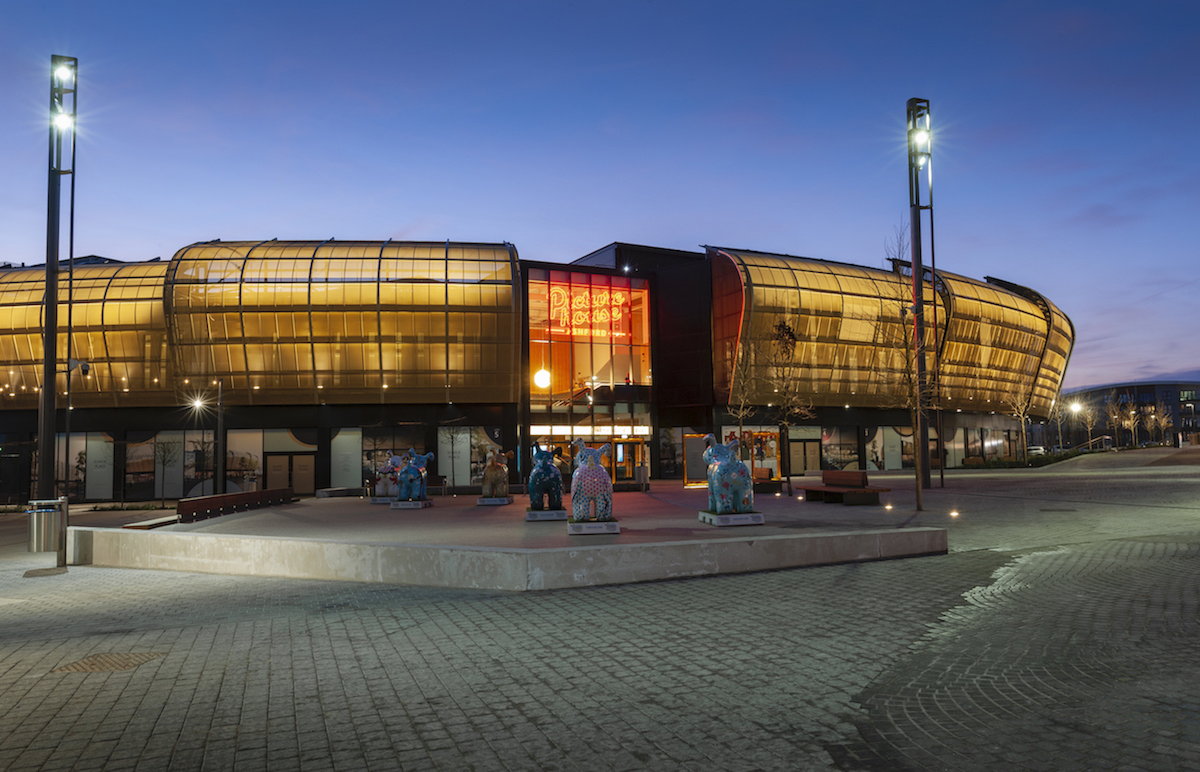 Quality of Life
As a town, Ashford has known unprecedented levels of regeneration, attracting over £500m in inward investment over the last few years.
With a proactive local authority, new developments such as Elwick Place, a premier leisure and restaurant complex or The Coachworks, a new food and drink and events hub, have redefined life in Ashford.
Upcoming developments include Newtown Works, a new mixed-used scheme centred around state-of-the art TV and film production space which will attract international companies to the area.
Find out more about living in Ashford now.
Who is behind the Chilmington Green development?
A range of partners are working on Chilmington Green, one of Ashford Borough Council's Big 8 projects. These partners include:
Ashford Borough Council.

Kent County Council.

Homes England.

Hodson Developments.

Barratt Homes.

Jarvis Homes.

Chilmington Management Organisation (www.cmo.org.uk).
Chilmington Management Organisation
This significant scale of community assets requires a sustainable stewardship model to ensure that long term maintenance and management of these facilities are safeguarded for present and future generations.
In supporting Garden City principles it is important to provide a vibrant, cohesive and sustainable community; so it was felt that a community management approach was the best way to achieve this. The Chilmington Management Organisation (CMO) is a not for profit company dedicated to the residents of Chilmington Green, responsible for both estate management and community development. The CMO will look after areas of public open space, such as landscaping and community buildings, as well as having a remit to commission and implement community projects.
The CMO offers far beyond the normal services of a management company, its ambition is to create a great place to live and a thriving community for all, supported by and with input from Chilmington Green residents.
To find out more about the CMO, please visit www.cmo.org.uk.
*Please note Eurostar has announced a temporary suspension of services Ashford due to Covid-19 until 2022.